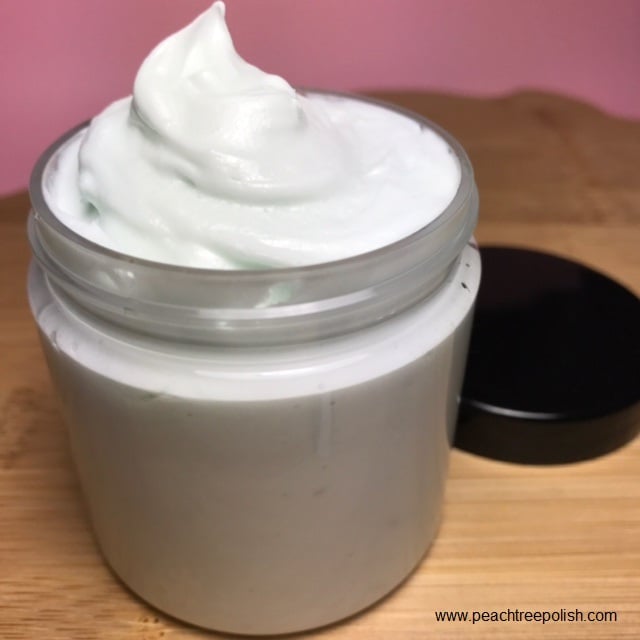 This body butter is rich in natural Shea Butter so it's the perfect skin-food. Some butters are tinted with a tiny bit of color. The tint is only added to be pleasing to the eyes; it does not transfer to the skin. Arrowroot is added to make it less greasy when applying.
(1) 4 oz. jar for $8.25
Scent choices:
~ Cranberry Spice (tinted pink, as shown in photo) - cranberry, orange zest, nutmeg with a base note of cinnamon.
~ Fresh Peaches (tinted light peach)
~ Mango & Papaya (tinted light orange)
~ Spearmint & Eucalyptus (tinted mint green)
~ Cucumbers & Melons (tinted mint green)
~ White Tea & Ginger (no tint)
~ Honeysuckle (tinted light yellow)
~ Butt Naked (no tint) - strawberry, coconut, cherry, banana, melon, peach, apple, pear, French vanilla, mint, clove
~ Coconut Lime Verbena (tinted pale green)
~ Sweet Pea flowers (no tint)
~ Oatmeal, Milk and Honey (no tint)
~ Sandalwood Patchouli (no tint)
~ Rosemary & Mint (tinted mint green)
~ Blue Hawaii - (tinted pale blue) - tropical fruits, sugared oranges, lemons and limes, with lightly exotic mountains greens.
Ingredients: Shea Butter, Coconut Oil, Arrowroot Powder, Fragrance, Skin Safe Colorant
Warning! Contains NO PRESERVATIVES so please keep water away from the container.
Directions:
Apply to dry skin as needed. Not intended for the face. Avoid contact with eyes and mouth.
Store in a cool, dry place to avoid the product from melting.
MAKE YOUR SELECTION BY USING THE DROP DOWN ARROW